Remembering the Foundation's President, Madeleine K. Albright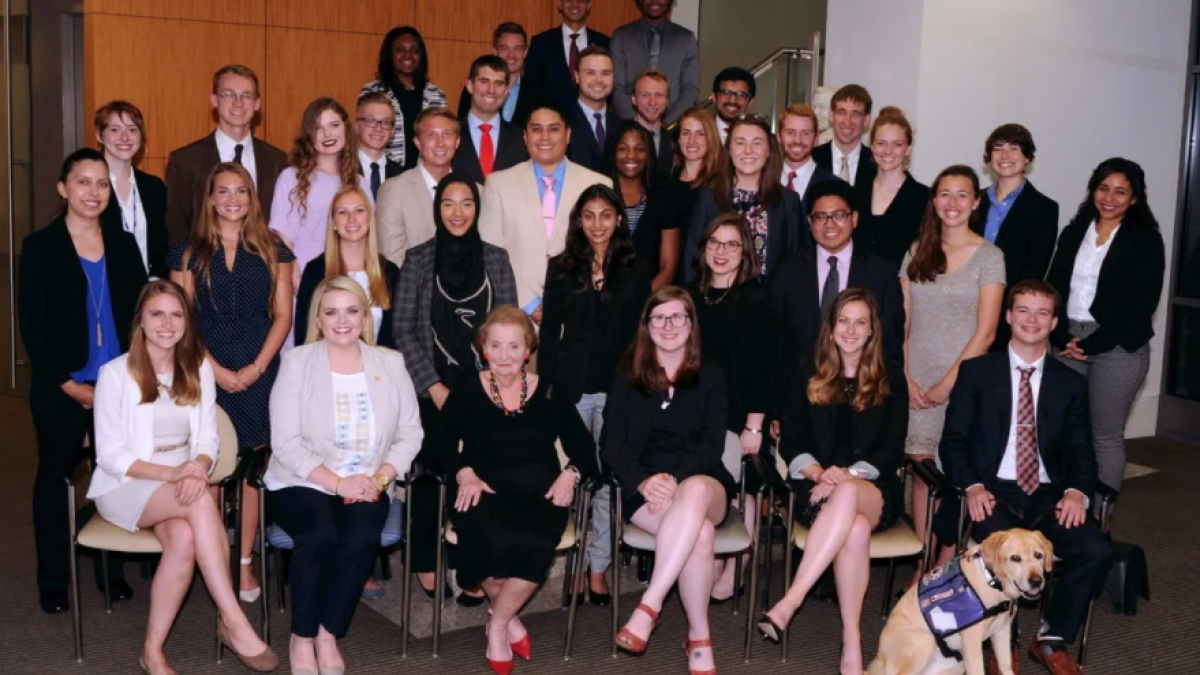 It is a professional honor and personal privilege for me to assume this position. President Truman was in office when my family sought and received political asylum in the United States and I have always considered him to be my first American President. He was a doer, whose plain words and bold actions mended a broken world, saved freedom, and embodied the principles of our nation at its best.

The Truman Scholarship Foundation embodies President Truman's spirit by encouraging our students to be their best, by helping them understand the complexities of the era in which we live, and by preparing them to become America's future leaders. It is a very exciting and dynamic program and I am honored to be its President.
Madeleine Albright
Accepting the role of Foundation President, June 17, 2002
Madeleine Albright began her tenure as the President of the Harry S. Truman Scholarship Foundation on January 1, 2003. Her predecessor, former Truman aide and Comptroller General of the United States Elmer B. Staats, had led the Foundation since its inception in 1975. Secretary Albright arrived during a time of fundamental change at the Foundation and quickly made the role of President her own.
It would be difficult to overstate the impact Secretary Albright had on the growth and development of the Truman program. She played a critical role in some of the most important Foundation policies through her oversight of the Scholar Accountability Taskforce, the Reinventing the Truman Scholarship Taskforce and the Truman Scholarship Development Fund (later Friends of the Truman Foundation). Her work on the Accountability and Reinventing taskforces created major and necessary changes to the Foundation's policies and programming. Her stewardship of these initiatives allowed the community to build consensus, reinvigorate and diversify the Truman program.
One of the recommendations of the Reinventing Taskforce was the creation of a gap year program to allow Scholars to stay in public service jobs in the Washington, DC area in the time between undergraduate and graduate school. Secretary Albright was so taken with this idea and the enthusiasm of the Scholars, she endowed the Truman-Albright Fellows Program when it was permanently authorized in 2007.  Since then, over 300 Truman-Albright Fellows have participated and embarked on their public service careers while also taking advantage of professional and personal development opportunities, mentorship programs and other quintessentially DC experiences.
But perhaps most beloved by Truman Scholars were the "Evenings with Secretary Albright" that formed a central role in our Summer Institute and Truman-Albright Fellows programs. These evenings were marked by Secretary Albright's legendary story-telling abilities and warm sense of humor. These encounters were often the highlight of a Scholar's time in Washington, DC and were often cited as sources of inspiration by Scholars, no matter their career path.
Secretary Albright was fond of calling the Truman Scholarship "a little gem" - yet we are the ones who were enriched by her commitment to honor the spirit and vision of President Truman. Truman Scholars, Foundation staff and our Trustees join people the world over as we mourn the loss of Secretary Albright but celebrate the continuation of her legacy.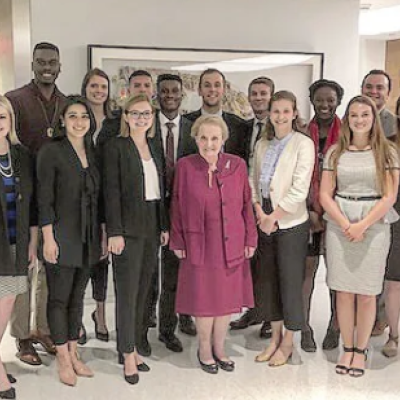 A tireless champion for democracy, Secretary Albright led us during a tremendous period of growth. In doing so, she gave us all a masterclass in purposeful, patriotic leadership. Truman Scholars - living memorials to President Truman, working across miles, professions and party lines - honor Secretary Albright by recommitting ourselves to the challenges at hand and following in her trailblazing footsteps.
Terry Babcock-Lumish, 96 (PA)
Truman Foundation Executive Secretary