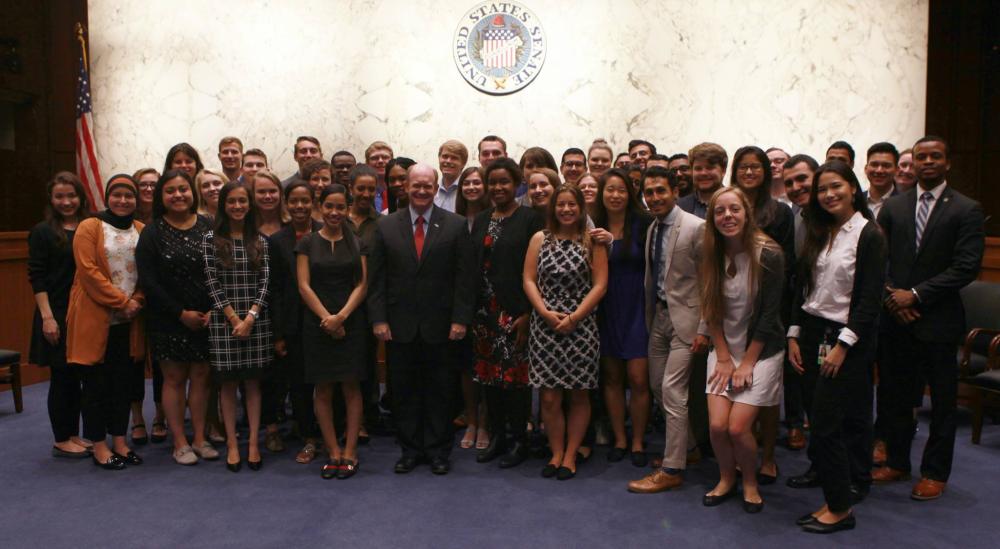 Overview
Since 1991, the Truman Foundation's Summer Institute program has been bringing Truman Scholars to Washington for internships at government agencies and nonprofit organizations.  Summer Institute is designed to introduce newly graduated Truman Scholars to the realities of working in public service in Washington, as well as to provide opportunities for community building within the Scholar cohort. When not working, the Summer Institute Scholars live together in a dormitory on the George Washington University campus and attend:
seminars focused on national politics and policymaking (May 31st to June 4th & various days during in the summer);
meetings with former Truman Scholars and other prominent public servants; and, 
Scholar led-presentations on seven Tuesday nights throughout the summer.
Participating Internship Partners
We are thankful for our partners for hosting Truman Scholars as summer interns, giving them hands-on experience working in public service:
Catalogue for Philanthropy

Consumer Financial Protection Bureau

Data & Society

Economic Development Administration

Friends of the Truman Foundation

Fund for the City of New York

German Marshall Fund

Globe Med

Indigenous Data Stewards Research Team

International Student Environmental Coalition

Jasmine Road

Jasymn Foundation

National Academy of Social Insurance

National Homelessness Law Center

Pathways to Housing DC

Paul's Project Grace Campus

Plan International USA

Refugees International

Silicon Valley Defense Group

Stewards of Affordable Housing for the Future

Teaching for Change

The Wilson Center's Polar Institute 

U.S. Congressman Andy Kim

U.S. Dept. of Agriculture, Office of Partnerships and Public Engagement

U.S. Dept. of Education, Office of Acquisition and Grants Administration

U.S. Dept. of Education, Office of Career, Technical, and Adult Education

U.S. Dept. of Education, Office of Elementary and Secondary Education

U.S. Dept. of Health and Human Services, Assistant Secretary for Planning and Evaluation

U.S. Dept. of Labor, Civil Rights Center

U.S. Government Accountability Office

U.S. Senator Chris Coons

University Network of Human Rights

University of Exeter

World Bank Inspection Panel

Your Houston
2022 Summer Institute
The 2022 Summer Institute will be held from Sunday, May 29th to Saturday, July 30th. Our current plan is to have the event in person and in Washington, DC. We will continuously evaluate the feasibility of in-person programming and maintain flexibility whenever possible.

Our 2020 and 2021 Summer Institutes were a combination of in person and virtual internships, depending on the preferences of the Scholar and the internship supervisor. We can implement such a solution for SI 2022 if needed, but our hope is to build community in person in Washington, D.C.
Host a Truman Scholar
If you are a public service employer in the DMV area interested in hosting a Truman Scholar, please contact us for details on our program.
Contact Us