Welcome Foundation President Janet Napolitano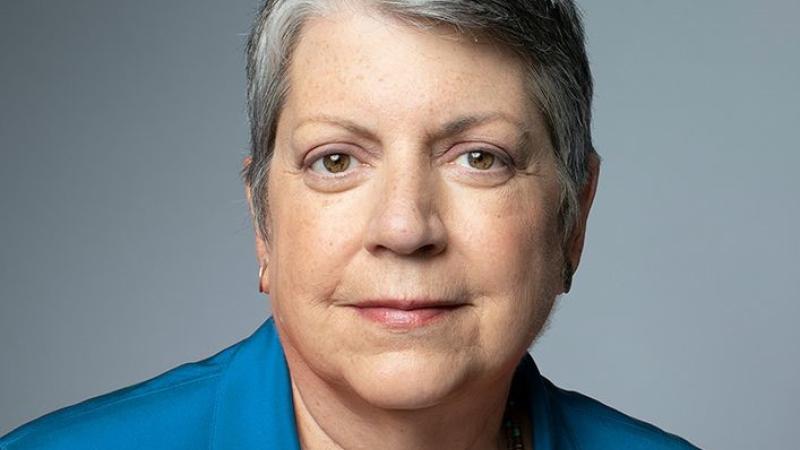 Our New Foundation President
The Truman Foundation welcomes Janet Napolitano (NM 77), a member of the inaugural class of Truman Scholars, as the next president of the Harry S. Truman Scholarship Foundation. Secretary Napolitano will step into the position previously held by former Secretary of State Madeleine Albright.
Secretary Napolitano has been a long standing member of the Truman community. She has been a featured speaker at a variety of Truman programs including Truman Scholars Leadership Week, Truman-Albright Fellows and our Governance Fellows program. She has mentored several Truman Scholars and been an inspriation to countless others. Secretary Napolitano has often said the Truman Scholarship was life and career changing - and she looks forward to continuning that experience for current and future Truman Scholars.
Her official biography follows below.
Janet Napolitano is a Professor of Public Policy and Director of the Center for Security in Politics at UC Berkeley. A distinguished public servant, Napolitano served as the president of the University of California from 2013 to 2020, as the U.S. Secretary of Homeland Security from 2009 to 2013, as Governor of Arizona from 2003 to 2009, as Attorney General of Arizona from 1998 to 2003, and as U.S. Attorney for the District of Arizona from 1993 to 1997. She earned her B.S. degree (summa cum laude in Political Science) in 1979 from Santa Clara University, where she was a Truman Scholar, and the university's first female valedictorian. She received her law degree in 1983 from the University of Virginia School of Law.
As Secretary of Homeland Security, she led the nation's efforts to prevent terrorist attacks, secure its borders, respond to natural disasters and build domestic resiliency. She oversaw critical enhancements to aviation security, including initiatives like the creation of TSA Pre✓® that bolster security while improving the travel experience. Through the expansion of programs like Global Entry and pre-clearance, the Department expanded our borders, helping to identify threats before they depart for the U.S. The Department also significantly enhanced its readiness to meet and combat evolving cyber threats. During her time as Secretary, she also spearheaded the creation of the Deferred Action for Childhood Arrivals (DACA) initiative, creating hope and relief for thousands of undocumented young people across the nation. She was the first woman and is to date the longest serving Secretary of Homeland Security. Under her leadership, the Department transformed its security capabilities, becoming a more efficient, cohesive and effective organization.
As UC President, she was a steadfast advocate for California students, working to stabilize in-state tuition and to enroll historic numbers of California undergraduates. In 2017, under Napolitano's leadership, the University of California was the first university in the country to file a lawsuit to stop the federal government's rescission of the DACA program. The injunctions the University received prohibiting the rescission of DACA were upheld by the U.S. Supreme Court. Napolitano also upheld the university's legacy of leadership on global climate action, putting UC on a path to 100 percent reliance on clean electricity across all campuses and medical centers by 2025. In 2017, she also spearheaded the formation of the University Climate Change Coalition, or UC3, a group of 18 leading North American research universities and systems are working to transition to a low-carbon future.
As Governor of Arizona, Napolitano balanced the state budget while also increasing the state's rainy-day fund. She created universal all-day kindergarten for Arizona children, established Science Foundation Arizona, and led the construction of a new medical school in Phoenix. In 2007 she was elected by her peers to serve as chair of the National Governors Association. Napolitano is the recipient of nine honorary degrees as well as the Jefferson Medal from the University of Virginia, that University's highest honor. In 2015, Napolitano was elected to the American Academy of Arts and Sciences and in 2017 she was elected to the American Philosophical Society. Napolitano serves as a board member for RAND Corporation, VIR Biotechnologies, Zoom, the International Rescue Committee, and the Council on Foreign Relations. She also serves on the Council of the American Law Institute, and the INTEL Government Affairs Advisory Committee. In 2022, President Biden appointed Napolitano to the President's Intelligence Advisory Board.
Napolitano is currently a professor of public policy at the Goldman School of Public Policy at UC Berkeley. She is the founding faculty director of the Center for Security in Politics. In March of 2019, Napolitano published How Safe Are We: Homeland Security Since 9/11.
Ready to get started?
All the information - requirements, dates, a sample application - you should consider before applying.
Before Applying